Search the Journey to Forever website – click HERE

Navigation
Peat moss
In Britain and parts of Europe, overuse of peat moss by gardeners and others has led to environmental concerns as bogs are depleted, and gardeners are now encouraged not to use peat moss.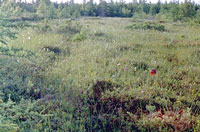 Restored Canadian bog harvested until 1968

Sphagnum peat moss is an alternative. Gardeners say American sphagnum moss is too tough and stringy. Use sphagnum peat moss from Canada. Don't use sphagnum moss, which is the fresh plant: sphagnum peat moss is partly decomposed and is the correct product for gardening and potting soils.

Canadian sphagnum peat moss is not a threatened resource. See these two FAQs for more information:

Canadian Sphagnum Peat Moss and the Environment
http://www.peatmoss.com/concern.html

Peat Moss and the Environment -- FAQ
http://www.peatmoss.com/pm-efaq.html

Check with local environmental organizations or gardening associations whether using locally available peat moss or alternatives causes environmental damage or not.
Coco peat moss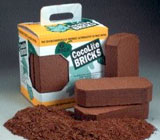 Coir bricks

An alternative is coconut coir, the waste-product from coconut shells. It is widely available, usually in the form of bricks or bales, and it works well -- use it like peat moss. Coir mostly comes from Sri Lanka, India or the Philippines. Sri Lanka produces about a million cubic metres of coir a year and has a large surplus.

"Coconut Husk Fiber is an excellent potting medium. This great replacement for peat moss does not shed water like peat moss, and holds up to ten times its weight in water. After soaking in water for 10-20 minutes, you will have 1/3-1/2 cubic foot of weed- and disease-free material. The pH of this potting medium is between 5.2-6.8." From the Territorial Seed Company:
http://www.territorial-seed.com/testcat/hardgoods/planting/ZPT697.html

"One small brick makes approximately 4 quarts of fluffy, wonderful smelling soil amendment" -- From Golden Harvest Organics:
http://www.ghorganics.com/Cocopeat.html



Jayampathi Lanka Exports (Pvt) Ltd. of Sri Lanka makes and exports Fibrosoil Coco Peat products -- Briquettes, Coco Peat Discs, Coco Peat Grow Bags and bagged or baled Coco Peat. E-Mail: jayampathi@lanka.ccom.lk
http://www.jayampathi.com/
Also in Australia:
http://www.cocopeat.com.au

Coconut Coir -- Wrapped Bricks, Blocks, Bales and Coir Grow Poles from Caribbean Gardening: 8x4x2" Brick of Coconut Coir compressed 8 to 1 -- add one gallon of hot water and it expands to 1/3 cubic foot or 9 quarts. Blocks are compressed 5 to 1 and expand to 2.5 cubic feet (75 quarts). Bales are compressed 2 to 1 and expand to 8 cubic feet (240 quarts)
http://www.coconutstuff.com/products.htm

Coir Fibre Brick -- The Organic Gardening Catalogue, Chase Organics-HDRA: Compressed coir fibre which expands to make a compost base when soaked in water. One brick makes 8 lt of coir which is enough for 2 seed trays. Use neat for sowing. Mix with perlite for cuttings. Add nutrients for raising transplants. One-, 2-, or 8-brick packs. See "Growing Media" in online catalogue -- Catalogue Ref: PFBR. Delivery in the UK only.
http://www.organiccatalog.com
---
City farms
Organic gardening
Building a square foot garden
Plant spacing guides
No ground? Use containers
When to sow what
Seeds
Garden pond
Gardening resources
Composting
Making compost
Composting resources
Composting indoors
Vermicomposting
Humanure
Composting for small farms
Small farms
Small farm resources
Community-supported farms
Farming with trees
Farming with animals
Pasture
Pigs for small farms
Poultry for small farms
Aquaculture for small farms
Composting for small farms
Controlling weeds and pests
Small farms library