---
Stories by Keith Addison
---
Tai Long Wan
-- Tales from a vanishing village

Introduction

Full story
---
Tea money
---
Back to basics

Full story
---
Forbidden fruit

Full story
---
A place where nothing happens

Full story
---
No sugar

Full story
---
Treasure in a bowl of porridge
---
Hong Kong and Southeast Asia
-- Journalist follows his nose
Nutrient Starved Soils Lead To Nutrient Starved People

Full story
---
Cecil Rajendra
A Third World Poet and His Works

Full story
---
Leave the farmers alone
Book review of "Indigenous Agricultural Revolution -- Ecology and Food Production in West Africa", by Paul Richards

Full story
---
A timeless art
Some of the finest objects ever made

Full story
---
Health hazards dog progress in electronics sector
The dark side of electronics -- what happens to the health of workers on the production line

Full story
---
Mo man tai ('No problem')
-- "Write whatever you like" -- a weekly column in Hong Kong Life magazine Oct. 1994-Jan. 1996
---
Swag bag
Death of a Toyota

Full story
---
Zebra Crossing
-- On the wrong side of South Africa's racial divide.

Kwela Jake
Sold into slavery
Mamelodi
Finding Tom Hark
Return of the Big Voice
Brother Jake
---
Curriculum Vitae
---

"What are you doing?" Ah Jeh asked suspiciously, keeping her distance.
___It was a hot and sticky day and I was emptying a big compost bin in the yard, and getting filthy. But the main reason for her doubts was that she'd watched me filling the bin two weeks earlier, and she'd objected.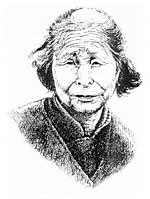 Drawing by Christine Thery

___"It stinks!" she'd complained, wrinkling her nose.
___It did indeed stink -- some of the kitchen waste I was mixing up with cowdung, weeds and other things had gone rotten. It didn't matter -- it stopped stinking as soon as it was in the bin, which didn't smell at all, and there are much worse smells than rotting kitchen scraps, such as that of the fermented nightsoil and urine Ah Jeh fed to her crops every week. She was being very fastidious, for an old peasant woman. She didn't go away though, she just stood there complaining about the smell until I'd finished the job.
___This time she was standing clear, fearing for her nose.
___"It's finished, it doesn't stink anymore," I assured her.
___She approached and examined the black, crumbly, stinkless stuff.
___"Good fertilizer," I told her. "Do you want some?"
___"Yes, please," she said, and went off, returning with a basket to carry it in, and a bunch of dried spring onions "for Christine".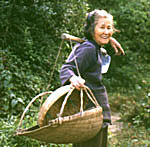 ___We often did things for Ah Jeh and she always gave Christine (not me) dried spring onions in return. Not that we wanted anything in return. But she liked it that way, and she had more onions than she needed. By now, so did we. I loaded two bucketsful of compost into her basket.
___"No need to mix it with ash," I told her, "your fields have already got too much ash."
___"Yes," she said, "thankyou," and carried it off, but instead of going to her main shed to store it she turned up the steps towards her cowshed, where she kept a big pile of ash from the mounds of crop wastes and weeds she burnt in the fields.
___There was lots of clay in Ah Jeh's fields, and in everyone else's. It's great stuff for rice farmers, they use it to turn the place into a series of square ponds every summer and grow two crops of rice in all the mud.
___But in winter they grow vegetables, draining the fields and building very neat raised beds with a hoe, lots of hard work, especially for old people.
___Vegetables should have deep, rich soil to wriggle their toes in, but these vegetables hit an impenetrable clay pan about eight inches down, the remains of the rice paddy.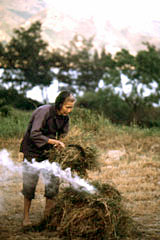 ___In good soil clay particles are like marbles jumbled together, with gaps and spaces in between for air and water and roots, and they also swap a lot of nutrients with the plant roots.
___But the village soil was thin and acid. Instead of recycling their crop wastes to build up the soil fertility, the villagers burnt them and used the ash as a fertilizer -- in other words as plant food, not soil food. But ash contains a lot of salt, which turns the clay marbles into a layer of bricks that roots can't penetrate.
___The vegetables grew well, but they weren't very healthy, and neither was the soil, so there were lots of pests and weeds, which meant lots more work.
___So I was composting crop wastes instead of burning them, making soil food.
___I shovelled the rest of the compost into sacks and started making the next batch.
___Ah Jeh was a widow, and she lived alone. She grew other crops besides spring onions, but mainly to eat. To get her produce to the market in Tai O she had to walk to the bus stop, more than a mile from the village, mostly uphill, and she couldn't carry much because she was in her 70s and not very strong.
___Like some of the other village women she had a permanent stoop, her spine buckling with age and too many years of hard labour. Even if she could have stood erect she would hardly have reached five feet, and she was slightly built.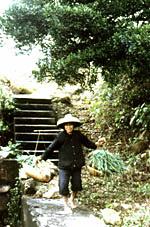 ___She made the trip to Tai O every Saturday. Dried spring onions sold for HK$3 a catty (1.3 pounds), though fresh they fetched $5. But fresh ones were heavier and bulkier with their long green shoots -- she could carry more dried onions. It still wasn't much. With two baskets on a pole over her shoulder, Ah Jeh could only carry about 20 catties up the hill to the bus stop.
___She was one of the few villagers who didn't have a cash reserve stashed away in a savings account. Twenty-five years earlier, the Government District Officer had arrived in a small boat, coming through the waves to the beach -- at the time the only way to get to the village that didn't take all day. He brought $670,000 in cash payment for a government land scheme, and shared it out among the family heads.
___More than half the families used the money to move to the city. The dozen families that remained took up fruit growing, with the government supplying the trees, and made money, until the trees started giving out 10 years later because they cleared the orchard slopes and all the topsoil washed away in the summer rains. A few of the farmers became expert fruit growers and went on making money -- there were still some good orchards in the valley. But the younger villagers drifted to the city, leaving the old people behind.
___Some of the villagers hardly bothered to farm at all. They lived as frugally as ever, spending very little, hardly touching their money. Excepting when their sons got married.
___Ah Jeh spent the going rate of HK$40,000 on her first son's wedding, and another $40,000 on her second son's wedding. Then the second son wanted to open a restaurant in the city, so Ah Jeh lent him the rest of her money, but he lost it all. There was nothing left for the third son, and nothing for Ah Jeh.
___So she had no choice but to farm.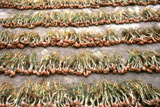 She worked in her fields and orchards for up to 10 hours a day. Two of her fields were covered with neat rows of spring onions in raised beds, with peanuts in a third field and mixed vegetables in a fourth. At one stage she had eight different crops growing in that field, in clever combinations. She worked well, with skill and knowledge.
___But six more fields lay unused, her pineapple grove was choked with weeds, one of her two orchards was neglected and the other was marginal. She'd given up planting rice years before and, no longer needing their labour for the plough, she'd sold her cattle. Pigs were too much trouble for one woman, so she'd sold them too, and she no longer kept chickens. Without livestock wastes she didn't have enough fertilizer for the few fields she still worked, and none for the fruit trees. She used ash and nightsoil, and six inches under her raised beds was a pan of cemented clay.
___Her third son, Wah Jai, stayed on long after most of the other young people had left. He was a good farmer and tried hard to make the farm work, but he failed, and left for a job in a car workshop in the city soon after we arrived in the village.
___So we helped the old woman when we could.
___She asked us for help the first time.
___We were laying a water pipe to an old cowshed that Christine was turning into a photographic darkroom when we noticed Ah Jeh standing nearby, watching quietly.
___Eventually, having apparently decided that we seemed to know what we were doing, she said: "Please, if you're not too busy, when you have the time, would you help me fix my shed? I'm not strong enough, and there's nobody to help me."
___"What's wrong with it?" I asked.
___"The roof is broken. Do you want to see it?"
___The shed we were working on was at the end of a row of 10 adjoining sheds under one long roof; Ah Jeh's was in the middle of the row. The main roof crossbeam had rotted and collapsed, breaking two of the roof sheets. We were surprised none of the other villagers had helped her fix it, because if left to itself the damage would spread to the other sheds.
___"None of the men would help you?" I asked.
___"They're too busy," she said.
___"Busy sleeping?" Christine laughed.
___So we replaced the rotten section of the beam. But Ah Jeh didn't agree with the way we went about it, and she didn't stop saying so. But the roof would have collapsed if we'd done it her way. At first we reasoned with her, then we humoured her, and finally we ignored her, while her protests grew steadily louder and more pained.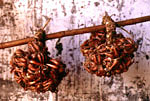 ___We were standing behind the shed, levering up the new beam against the weight of the broken roof sheets so that we could prop it in place before securing it. Ah Jeh was supposed to be passing us bricks from inside the shed to use as props, but she'd lost sight of this in favour of her complaints, which had progressed to the general hardships of life and the difficulties an old woman faced and so on. Meanwhile I was struggling to hold the roof up.
___Christine managed to find a brick and put it in place, and I released the crowbar. The roof failed to collapse. Ah Jeh droned plaintively on without a pause. We were suddenly convulsed with laughter -- we tried to bottle it up but a few giggles escaped, bringing a hurt silence.
___"The roof's fixed now, Ah Jeh," I called to her, and she was happy again by the time we got round to the front of the shed, and full of thanks. Later she brought Christine two bunches of dried spring onions.
___Some days later we tried to fix the broken roof sheets, which would leak in the rain, wetting the new beam and causing the same problem all over again. Ah Jeh couldn't afford new roof sheets, so we decided to patch up the old ones with sacking and tar, since she had some tar, at least waterproofing them a bit.
___We collected a pile of brushwood on the high bank behind the shed and asked Ah Jeh to build a fire to melt the tar, while we cut the sacking to size. She'd been cooking over wood fires for 60 years, but she wouldn't light the fire.
___"Why not?" asked Christine.
___"No kerosene," said Ah Jeh.
___So, just a bit indignant, I built the fire while Ah Jeh looked on. I got the kindling going, piled bigger sticks on top and fanned it with a board, but Ah Jeh, encouraging it from the other side with a stick, somehow managed to smother it, and it went out.
___This happened three times. Each time I got the fire going Ah Jeh poked it to death with her stick. Then I removed her to a safe distance and sat her down on a stone. Muttering, I started all over again, not soothed by a glance of mutual amusement I caught the old woman exchanging with Christine, perched up on the roof.
___"Not funny," I growled at Christine, who clearly didn't agree.
___This time the flames leapt up without delay, I melted the tar and Christine poured it over the sacking she'd stuffed into the holes in the roof sheets. But we ran out of tar, with the job not quite finished.
___"It leaks," Ah Jeh told us two days later, after a rainstorm.
___It would always leak, no matter how much tar we put on it. What it needed was new roof sheets. The shed was like the rest of her equipment -- worn with age and use, patched, stitched and tied together well enough to last another year or two. She was rather like that herself.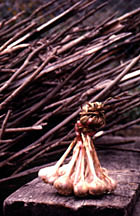 ___Ah Jeh became our best friend in the village, and perhaps we were hers -- nobody else took much notice of her. She visited us every evening, which was always a pleasure. She was a gentle, gracious old lady. We both loved her.
___I worked on at the compost, thinking of the old woman mixing up ash in her shed. The sun blazed down and I took off my t-shirt, working on in a pair of shorts. I finished sifting the cowdung, mixed in the other ingredients with a shovel, watered it, and had just finished loading it into the bin when two smart young Chinese couples came round the corner of the house. They stopped short at the sight of such a grimy gweilo, caked as I was with manure dust heavily streaked with sweat.
___"Are you looking for somebody?" I asked. (It could speak!)
___"We want to buy some lychees," one of the girls ventured.
___"There aren't any lychees now," I said. "The season's over."
___"Are you sure?" her boyfriend asked.
___Ah Jeh reappeared with the empty basket, hoping for more compost.
___"Ask her, she's a farmer," I said, and took the basket to refill it.
___"No lychees," Ah Jeh told them. I gave her back the filled basket.
___"What are you giving her?" the other man asked, in English.
___"Compost," I said. "She hasn't got enough fertilizer, and she can't afford to buy any."
___"Why not?" he asked.
___"Why don't you ask her?" I suggested, so he did, and Ah Jeh, with the usual disarming village openness, told them why she couldn't make any money from her crops.
___"Doesn't your family help you?" one of the girls asked her.
___She told them her husband had died, leaving her with six young children, who had all left for the city as soon as they were old enough; the last one had left only months before.
___"They only visit me at Lunar New Year," she added. They'd descended on her en masse with their spouses and children, 12 people, and she'd spent the four days cooking and cleaning for them.
___"But don't they send you money?" the girl persisted.
___"No," Ah Jeh said angrily.
___Shocked, their friendly smiles gone, they stared at her: old and worn, abandoned and alone, but still independent, still fending for herself.
___I left them and went inside to clean up.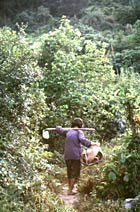 ___That evening there was the usual gentle knock on the door and Ah Jeh came in.
___"Were those people friends of yours?" she asked.
___"No," I answered. "They were tourists from the city."
___She took a $100 note from her pocket. "They gave me this, and told me to buy myself tea in Tai O," she said, and laughed: "So I said, 'Thankyou!'" And we all laughed.
___She looked at us tentatively: "Would you like to have tea with me in Tai O?"
___"No, Ah Jeh," said Christine. "Thankyou, but you keep the money for yourself."
___She took the note from the wrinkled old hand and tucked it back into Ah Jeh's pocket. Then we had tea together.
___