---
Stories by Keith Addison
---
---
Zebra Crossing
-- On the wrong side of South Africa's racial divide.

Kwela Jake
Sold into slavery
Mamelodi
Finding Tom Hark
Return of the Big Voice
Brother Jake

---
Tai Long Wan
-- Tales from a vanishing village

Introduction

Full story
---
Tea money

Full story
---
Forbidden fruit

Full story
---
No sugar

Full story
---
Treasure in a bowl of porridge
---
Hong Kong and Southeast Asia
-- Journalist follows his nose
Nutrient Starved Soils Lead To Nutrient Starved People

Full story
---
Cecil Rajendra
A Third World Poet and His Works

Full story
---
Leave the farmers alone
Bookreview of "Indigenous Agricultural Revolution -- Ecology and Food Production in West Africa", by Paul Richards

Full story
---
A timeless art
Some of the finest objects ever made

Full story
---
Health hazards dog progress in electronics sector
The dark side of electronics -- what happens to the health of workers on the production line

Full story
---
Mo man tai ('No problem')
-- "Write whatever you like" -- a weekly column in Hong Kong Life magazine Oct. 1994-Jan. 1996
---
Swag bag
Death of a Toyota

Full story
---
Curriculum Vitae
---
Kwela Jake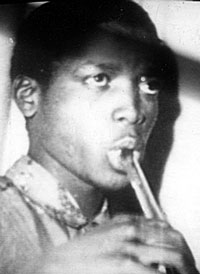 When he was only eight, Jake ran away from his home in Alexandra Township ("Dark City") north of Johannesburg. He took the six-holed tin pennywhistle he'd pestered his uncle to give him, and went to the city to play for white pennies on the street corners with other kids, dodging the police when they tried to catch him, sleeping at night in the backseat of a wrecked car on a disused lot.

They did catch him in the end, but by then he'd had six months of playing music for a living, and he was hooked for life.

His mother hugged him when the police brought him back to her, and then she beat his bottom with a straight and narrow stick until they were both howling. Then she sent him to school, in a place he couldn't run away from -- Moria, Mount Zion, three hundred miles north of Johannesburg, Holy Land to a million Black Zionist Christians. And she sent his brother Elias ("Shamba"), also a pennywhistler, with him.

The brothers spent the mornings in the classroom with the priests and their lessons, and the afternoons herding goats in the hills near the holy city.

One afternoon they were sitting under a tree talking about Johannesburg. After a time they fell silent, each longing for the racy life of the townships.

Jake took his flute and began to play, and Elias joined in. It was a new tune, vibrant with the fast freedoms of the street corners, and it swept them away. They played on and on, with only the goats to hear, until it was dark and they were breathless.

Jake stayed at Moria for five years, and then he and Elias went back to Johannesburg, and the streets. Soon they had a band: three pennywhistles, a bass made from an upended teabox, a bit of rope and a broomstick, and a skiffle guitar. Jake thrived -- this was better than the church choirs of Moria. And it could pay twenty pounds in an afternoon.

A year later a record company scout heard the band playing in the street and offered them a chance to make a recording. They went to the studio and recorded the tune Jake had composed that day in the hills of Moria. They called it Tom Hark.

The record started with the sound of money clinking down onto a pavement. Dice rattle, streetwise young voices call bets and argue, the dice stop rolling, cheers and groans as the coins are scooped up again.

Feet come running and an urgent voice calls: "E Bops, kom maak gou -- hier kom die kwela kwela van!" ("Hurry up, here comes the police van"). "Tom Hark" has been watching for police at the corner.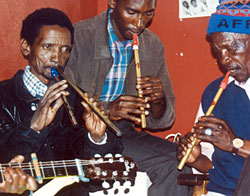 Jake rehearses his band in 1997 -- on the right is Zeph Nkabinde, who'd played on the streets with Jake 45 years earlier.


Dice and cash vanish, out come pennywhistles and guitars, and the gambling school becomes a kwela band (the music named after the police van) and they swing into the irresistible tune of Tom Hark. The police rumble past in their van. All clear -- the music stops, dice rattle down, a new Tom Hark takes his stand at the corner.

Tom Hark earned Jake and Elias studio fees of six guineas each (£6 6s 0d -- about US$12). Jake signed over the royalties on the record to Elias as a gift because Elias was broke at the time. Elias was always broke -- everyone was always broke. Except the whites -- so Elias sold the rights to a record company executive for £30 and bought himself some snappy new clothes.

The record sold a million copies, and then a million more, finally levelling off at about five million sales worldwide. It was even used as the theme of a BBC TV thriller series.

But the two young stars had already had all the money they would get out of it, and they stayed broke, still living the street life they'd described on the record.

"The police didn't like us playing in the streets," Jake remembers. "When they caught us they beat us up. But I didn't care -- the money was good.

"But on Christmas Day in 1958 I was playing in Hillbrow. The street was crowded with people listening to me. The police came. They beat me up, they kicked me in the face and broke my jaw. You can't play kwela with a broken jaw. Then they fined me for disturbing the peace."

After that he was too frightened to play in the streets again. He turned to the record companies for a living. They robbed him, but they didn't break his jaw.

For thirty years Jake's music has been his mistress. He worked in jazz, soul, pop and mbaqanga (township jive), always with success. There was the incredible thrill of playing by royal command to the Zulu king and to the King of Swaziland, of travelling to Europe and adventure, of having many names, and all of them famous. But he never managed to break the big-time barrier again.

He started whole new directions in music -- mbaqanga, the townships jive that swept Africa, was largely his origination. He helped and influenced scores of musicians, his music thrilled generations. He recorded about 250 records, many of them best-sellers -- but always for others to get rich.

The same golden wind that he wafted round the world still blows through Jake's music, whether he's blowing jazz on his flute, jive on his tenor sax or his alto, blues on his harmonica or kwela on his pennywhistles -- still his favourite, and he still has the original one his uncle gave him when he was knee-high.

When he plays it these days it's no kid that's blowing, though sometimes an old kwela tune among friends can shed his years until he looks sixteen again. He's deeper now, more subtle -- yet his pure and simple kwela sounds simpler and purer than ever.


---

Big Voice Jack

Bassline Jazz Club
http://www.basslinejazzclub.co.za/Biogs/BVJack/BVJack.htm

Big Voice Jack Returns With His Penny Whistle -- " I will keep on playing music until I am 90 or 100 years old. As long as God can spare me I will keep on making music." (Mail & Guardian. April '99)

Big Voice Jack has been at the forefront of the distinctive South African pennywhistle sound for five decades now and with a new album and documentary about his life out at the moment, the old man of the pennywhistle' is not slowing down for anything. Considered the leading pennywhistle player in the land. Big Voice Jack, who is now well into his sixties, still brings to his music the vibrancy, authenticity and spirit that is reminiscent of Johannesburg in the early 50's when the pennywhistle could be heard on street corners all over the city and Aaron Jack Lerole (his real name) was a kid with big dreams.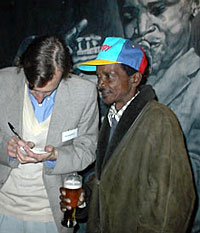 Jake meets the press in New York.


Big Voice Jack started his musical career at an early age in the dusty township of Alexandra on the outskirts of Johannesburg. In the late 40's and early 50's, Alexandra was alive with bands playing various styles of music. There were brass bands, jazz bands, bands playing marabi, boogy woogy and progressive jazz, but the sound that really captured young Jack's heart was the sound of the pennywhistle. On weekends in Alexandra, Big Voice Jack furthered his love for the pennywhistle sound by following his favourite bands through the streets of Alexandra as they marched and played. The group that captured young Jack's attention consisted of a rather bizarre lot of men who used to dress up in Scottish kilts and march through the streets playing pennywhistles and home made drums made from rubber and bottle tops. " We used to call them 'Amaskotish',"says Big Voice Jack. "I saw these men and from then on I urged my parents to get me a pennywhistle."

Big Voice Jack taught himself to play by rehearsing all the popular songs of the time. Songs like "In the mood" and "The Chattanooga Choo Choo", and once he became good enough he joined the older men and went out with them on weekends to play for money.

In 1952, Big Voice Jack recorded his debut 78 inch single with Troubadour Records called "Fislasiya Rhala". Over the next couple of years he recorded many singles and by 1956 he was starting to receive recognition for his unmatched skill with the pennywhistle. He formed a band with his brother Alias Lerole, David Rhamamosa. Peter Khumalo and Zeph Nkabinde called The Alexandra Shamba Boys and recorded an album that became hugely popular in the dancehalls and shebeens of South Africa. "Suddenly I had an entourage," remembers Jack, "and people used to follow me through the streets like I was a preacher." Jack and his band used to march from one end of the city to the other, playing and collecting money as they went. This was during the dark days of apartheid South Africa, and the band members were frequently arrested for causing a public disturbance. "We used to just pay the fine and carry on playing," says Jack. One of the other dangers at the time were the gangsters who would frequently pressurise bands for protection money. For this reason, Jack and his band used to carry tomahawks around with them for protection money. For this reason, Jack and his band used to carry around tomahawks around with them for protection. By the end of the 50's the pennywhistle had gained in popularity so much so that international audiences began to be interested in the sound. Jack had become involved with a theatre group called "Gibelani Madoda" and he accompanied them on his first international trip when they set off for a tour of Italy. The tour was to take Jack through the dancehalls and theatres of Europe where his pennywhistles were gaining new converts with every show.

In the early 60's Jack returned to South Africa and embarked on a solo career. It was at this time that he got the name Big Voice Jack because of the distinctive singing style he employed, a deep groaning style that striped his vocal cords forever. Jack's solo career took off and he put out many hit singles throughout the 60's and 70's, "Cherry Beat", "Big Voice Jack no1" and "Jacking Jack" were some of his more popular hits. In the 80's Jack was involved with many South African and international musicians. He worked with Malcolm McLaren, the maverick genius behind the Sex Pistols, and was involved in numerous other projects in television and theatre.

He continued to tour both locally and abroad, playing in Africa and in European countries like Switzerland, Spain, France, Austria and many others. However, it was at The Bassline Jazz Club in Melville Johannesburg that Jack's finest moment was set in motion. Jack was playing at the club and Dave Mathews, guitarist, songwriter and singer with the internationally acclaimed Dave Mathews Band, was in the audience. Dave's saxophonist had asked him to pick up a few pennywhistles while he was visiting South Africa and Dave approached Big Voice Jack after the gig to ask him where he could find them. Big Voice Jack decided to rather give his own whistles to Mathews. "I thought that I would never play in a big stadium in America, so I wanted my whistles to be there," says Jack."So I gave them to him."

Big Voice Jack's generosity was repaid when the Dave Mathews Band invited him to come over to the States and play two gigs with them at the Foxboro stadium in Boston and the Giants stadium in New York. This invitation from arguably the hottest rock act in America at the moment is a fitting tribute to the lasting contribution that Big Voice Jack has made to South African music, and went down a treat. Jack's gigs with the Dave Mathews Band were recorded in a documentary by South African filmmaker Jonathan Dorfman called "Back to Alexandra." The film shows Jack on stage before an 88,000 strong crowd, jiving and jamming with the band like a man half his age. He went down so well that the band even asked him to play one of his own tunes, "Back to Alexandra," a song in which Jack gives vent to his lifelong hatred for guns.

He has just completed a memorable tour, is the star of a documentary and just to round it off, the old man of the pennywhistle has recently released an album, Colours and Moods, which will be released internationally through GMI. The album was recorded live at the Bassline in September '98 and mastered at the SABC studios. It features original material written by Big Voice Jack over the years, some of which dates back to the 50's. "The album has a live quality that makes you feel like you are watching the band as they walk through the streets of Alexandra. It has an authenticity and nostalgic feeling that makes it novel," says Brad Holmes, Big Voice Jack's manager. He has come a long way from the streets of the townships where he learnt to make his music, and if you listen to the energy, vibrancy and skill displayed in Colours and Moods, you have the feel that Big Voice Jack has a long way yet to go.

For further information contact:

Brad Holmes at The Bassline Management or Antos Sella at Gallo Music International Tel: (011) 788-0400 Fax: (011) 442-6190
Email: bassline@icon.co.za