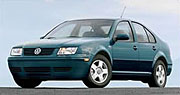 VW Jetta


(See also: http://www.fueleconomy.gov/
feg/2001byfueltypef.htm)
VW Tdi
(45 state legal. Not available in CARB states.)

Jetta, Golf, New Beetle
100 hp 1.9L TDI PD (unit injector)

Passat (B5.5 platform)
134 hp 2.0L TDI PD (unit injector)

Touareg
310 hp V10 TDI PD (unit injector)
Mercedes
MB E320 CDI (45 state legal. Not available in CARB states.)
201 hp 3.2L I6 CDI (common rail)

SUVs, vans
Jeep Liberty CRD
160 hp 2.8L CRD (common rail engine from VM Motori in Italy)

Dodge/Freightliner Sprinter Van
154 hp 2.7L CDI
Pickups/Large SUVs
Dodge Ram 2500 and 3500 Pickup
Ford F-250 and F-350
Ford Excursion -- 6.0L V8 Powerstroke diesel
Chevrolet Silverado 2500HD and 3500 -- V8 Duramax Diesel
Hummer H1
Used cars
-- from most available to least available (more or less)
VW Tdi
Jetta, Beetle, Golf, mid-90s Passat, Pickup, Vanagon

VW
A4 Platform cars 1999-2003 -- 50 state legal -- not PD
Mk 4 Jetta & Golf, New Beetle -- 90 hp 1.9L TDI (Variable Vane turbo)

A3 Platform cars 1994-1999
Mk 3 Jetta and Gold -- 90 hp 1.9L TDI (wastegate turbo)

B4 Platform: 1996 & 1997 only in North America
Passat
VW non-Tdi turbos and non-turbos
Jetta, Golf, Rabbit, Quantum, Dasher, Pickup, Vanagon, first diesel Rabbits from around 1979.
Mercedes diesels
(Sedans and wagons)

'81 to '85: 300D, TD, SD and SDL
Earlier: 300D and 240D
The 300s were 5-cylinder, later models with turbo, the 240s all 4-cylinder non-turbo.
Later: '87 300TD wagon, 6-cylinder
'87 300SD (big body) sedan, 6-cylinder
190D, non-turbo 4-cylinder - later models may have turbo
'90's - 300D sedans and 300TD wagons went back to a 5-cylinder turbo, 300SD still had the 6-cylinder
350
Unimog truck
Others
Audi 5000 diesel 1979-83
BMW diesels:
524TD or 528TD, 1984-1985, 6-cylinder. Rare.
The same engine was used in the mid-'80s Lincoln Continential Town Car, also rare.

Volvo diesel car (VW 5-cylinder non-turbo and turbo)

Peugeot diesels:
The turbodiesel in the 505 sedans and wagons was a good engine, the non-turbo in the 504 was pokey, all rare.

Nissan Camry
Nissan Sentra
Nissan pickup (4x4 turbo diesel)

Isuzu Imark car 1.8 liter
Isuzu PUP pickup truck 2.2 liter non-turbo and turbo

Toyota Pickup
Toyota Camry

Mazda Pickup truck 1984 B2200
1985 Mazda 626 diesel

Mitsubishi Mighty Max Pickup truck
General Motors
The infamous Oldsmobile diesel engines made by General Motors from 1978-1985. The V8 5.7 liter was fitted to Oldsmobile sedans, Cadillacs and Chevrolets, and some pick-ups.
The V6 4.3 liter was available in smaller front-wheel-drive vehicles, eg. Cutlass Calais.
Chevrolet car (3.5L)
Chevrolet trucks (6.2L-6.5L, Duramax diesel)
Chevrolet LUV (Isuzu pickup)
Chevrolet Chevette (1.8 liter Isuzu diesel engine)
Ford
1983-1987 6.9L IDI (Indirect Injection) V8 non-turbo diesel
1988-1994 7.3L IDI (Indirect Injection) V8 non-turbo diesel
1993-1994 7.3L IDI (Indirect Injection) V8 turbo diesel
1994-2003 7.3L DI (Direct Injection) V8 turbo diesel (Powerstroke)
The 6.9L/7.3L was available in E series vans and F series trucks F-250 up
The Powerstroke was available in E series vans and F series trucks F250 up and Excursion.
Ford Topaz (Mazda diesel)
Ford Ranger (Mazda diesel) in the 1980s

Dodge trucks (Cummins diesel)
SUVs
Chevrolet Suburban 6.2 and 6.5 GM diesel
International Scout (Nissan diesel motor)
Isuzu Trooper 2.2 liter non-turbo and turbo
Toyota Land Cruisers imported from Canada.
Chrysler Jeep (diesels brought in from Canada)
Pre-74 Land Rovers, 4 cyl. 2.5 non-turbo diesel


-- With thanks to John Hayes and the members of the Biofuel mailing list


---
Biofuels
En español -- Biocombustibles, biodiesel
Biofuels Library
Biofuels supplies and suppliers
Biodiesel
Make your own biodiesel
Mike Pelly's recipe
Two-stage biodiesel process
FOOLPROOF biodiesel process
Biodiesel processors
Biodiesel in Hong Kong
Nitrogen Oxide emissions
Glycerine
Biodiesel resources on the Web
Do diesels have a future?
Vegetable oil yields and characteristics
Washing
Biodiesel and your vehicle
Food or fuel?
Straight vegetable oil as diesel fuel
Ethanol
Ethanol resources on the Web
Is ethanol energy-efficient?