New book!
The Biodiesel Bible
by Keith Addison
Journey to Forever

April 2013

342 pages, 217 illustrations

This is the only book that thoroughly covers the entire subject of making your own biodiesel – all the information at the Journey to Forever website and very much more.

• Learn how to make top-quality biodiesel that will pass all the quality standards requirements every time.

We haven't had a failed batch for 11 years! (But if you do have a failed batch we tell you how to rescue it – and how to improve your processing so it won't happen again.)

• Save money! Making your own biodiesel will save you thousands.

The current price of conventional petroleum diesel is around $4.13 per gallon (April 2013). Commercial biodiesel is more expensive than petrodiesel, at around $4.35 for pure B100, and $4.18 for the more common B20 (20% biodiesel, 80% petrodiesel).

Most drivers use about 500 gallons of fuel a year. Homebrewers make their biodiesel for around $1 per gallon, or less – as little as 50 cents per gallon. Their 500 gallons costs them $500 a year, they save $1,565. At 50 cents per gallon, they save $1,815 a year.

Highlights

• Extensive FAQ answers all the basic questions about making your own biodiesel – based on hundreds of inquiries over the years.

• Did Rudolf Diesel commit suicide?

• Chapters on Safety and Quality: safety is built-in all along the way, with a constant eye to keeping costs low, and the fuel quality high.

• A new resource on the many different kinds of oil available, their characteristics and their suitability for making biodiesel.

• Complete, illustrated instructions on building and using three different processors: a mini-processor for making test batches, a simple 5-gallon processor (20 litres), and a full-scale 90-litre processor, with instructions on how to scale it up to 200 litres for 55-gallon oil drums.

• How to reclaim the excess methanol for re-use in the next batch.

• How to use biodiesel to heat the oil for the process.

• All about the glycerine by-product – using it, refining it or disposing of it.

• How to make ethyl esters biodiesel, using ethanol instead of methanol. Unlike methanol, you can make ethanol yourself: see Make your own ethanol fuel – Build a 3-inch ethanol still

• Advanced two-stage biodiesel processes.

• Biodiesel the easy way: A completely new method with many advantages – do it this way and you'll never look back.

• Using SVO – Straight Vegetable Oil fuel: SVO systems compared, with recommendations.

It's all there – everything you need to know!


In the UK, petrodiesel costs 143 to 175 pence per litre – that's $5.40 to $6.63 per gallon. Paying $1 a gallon, or 18 pence per litre, British homebrewers can save from £2,700 to £3,315 a year on fuel costs, $4,142 to $5,085.

Savings in Europe are even higher: in France petrodiesel costs $6.81 per gallon (€1.38 per litre), in Germany it's $7.08 per gallon (€1.43 per litre), in Italy $8.74 per gallon (€1.76 per litre), and in Norway it's a whopping $8.93 per gallon (€1.80 per litre) – more than double the US price.

(Don't forget that diesels use about 30% less fuel than gasoline cars.)

• Anyone can learn how to make their own biodiesel. You don't need to be a chemist or an engineer, all technical issues are clearly explained in easily understood terms. There's a lot to learn, but it's a smooth learning curve, you won't go wrong.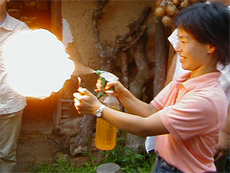 The idea isn't that you should blindly follow the instructions and just do what you're told, but that you should understand what you're doing and why you're doing it. Then you'll be empowered.

• It's a pdf e-book. Copy it onto a CD, take it to your local print-shop and have them print it out. It doesn't have to be in colour (you can check colour images on-screen if you need to). Ask for double-sided printing and have them put it in a ring-binder, ideal for your workshop – it won't matter if it gets a little smudged.

On-screen, you can use the search commands to find whatever you might be looking for much faster than with a printed book. The many blue underlined hyperlinks in the text are "live": click on them and your browser will take you online to sources of chemicals and equipment, and resources on the Web that will make the whole job of making and using your own biodiesel fuel easier.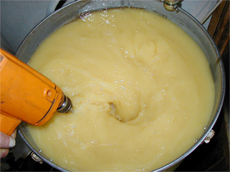 Stir-washing – fast, and
no emulsions

Web usage researchers have found that reading on-screen is more difficult and more tiring than reading print on paper. For real reading you need a real book.

If you send the pdf to a print-on-demand printer, you'll get a real book back, the same as you'd buy in a bookstore.

Happy brewing!

The Biodiesel Bible is a 13.2 Mb pdf e-book named TBB.pdf.

It costs $38.50.
To buy the book, click on the "Buy Now" button below.
You will be taken to PayPal, where you can pay by PayPal or by credit card or debit card.
When you have paid, you will be shown a link back to Journey to Forever. Click on the link.
This is the Download page. Click on the "Download" button - the book will download to your hard disk.
Price: $38.50
Pay by PayPal or credit card

If you have any problems, please email us:
info@journeytoforever.org

Download Adobe Reader to view or print Acrobat pdf e-books – it's free:
http://get.adobe.com/reader
---
Biofuels
En español -- Biocombustibles, biodiesel
Biofuels Library
Biofuels supplies and suppliers
Biodiesel
Make your own biodiesel
Mike Pelly's recipe
Two-stage biodiesel process
FOOLPROOF biodiesel process
Biodiesel processors
Biodiesel in Hong Kong
Nitrogen Oxide emissions
Glycerine
Biodiesel resources on the Web
Do diesels have a future?
Vegetable oil yields and characteristics
Washing
Biodiesel and your vehicle
Food or fuel?
Straight vegetable oil as diesel fuel
Ethanol
Ethanol resources on the Web
Is ethanol energy-efficient?





Community development | Rural development
City farms | Organic gardening | Composting | Small farms | Biofuel | Solar box cookers
Trees, soil and water | Seeds of the world | Appropriate technology | Project vehicles

Home | What people are saying about us | About Handmade Projects
Projects | Internet | Schools projects | Sitemap | Site Search | Donations | Contact us

© Copyright of all original material on this website is the property of Keith Addison, unless otherwise stated. It may not be copied or distributed without the explicit permission of the copyright holder. All material is provided "as is" without guarantees or warranty of any kind, either expressed or implied.