Search the Journey to Forever website – click HERE



Navigation
PicoTurbine
Pico (pee'ko) very small
Turbine (ter'bine) a motor driven by curved vanes
A great energy project! PicoTurbine is a miniature, 8" (20 cm) high, wind-driven power generator, producing electricity from a direct-drive, single-phase, brushless, permanent magnet alternator.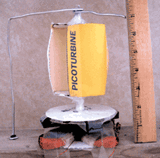 PicoTurbine in action (Home Power #71, June-July 1999)

With adult supervision, PicoTurbine can be assembled by children as young as 10 years old, making it an excellent project for renewable energy education.

The entire project costs only a few dollars, and uses commonly available materials. Midori made one out of a pencil, a wire coat-hanger, a bit of wood, an old CD, some paper and cardboard, four magnets, some other bits and pieces, and these free plans and directions:

PicoTurbine Renewable Energy
http://www.picoturbine.com/

Or you can buy a special kit at the same site (also parts, bigger models, other projects).

"The PicoTurbine can produce 1/3 watt -- that's a lot of power when converted to education!" says the designer, J. Stephen Pendergrast. More advanced versions the same size can produce a full watt, but are more challenging to build.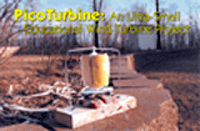 PicoTurbine (Home Power #71, June-July 1999)

The PicoTurbine site has general lessons on wind power and renewable energy. Teachers' guide, classroom experiments and activities.

The project includes lots of challenges for more advanced students, for instance DC experiments (kit available), and blade design: the blade offset can be increased or decreased, or the shape altered, the results tested and compared -- an excellent science fair project.