Search the Journey to Forever website – click HERE



Navigation
Trees, soil and water
Not in the news
Trees for the Future
Trees for the Future promotes reforestation and environmentally sustainable land use, in cooperation with local groups and individuals in their own communities around the world. Seeds and guidelines provide people around the world an opportunity to benefit from improved crop yields, erosion control and protection of their water supply. In return, these people do the work. "Since 1989, we have started more than 5,200 village projects in more than 60 countries in Africa, Asia and Latin America." Also anti-global warming programs like "Cool Cars", which plants 200 trees per certificate, enough to counteract the CO2 produced by one car in one year, and "Tree Pals" for kids.
http://www.treesftf.org/

The Chipko movement
This is the Chipko slogan: "What do the forests bear? Soil, water and pure air!" Exactly right!A quarter of a century ago a group of women in the Reni forests of Garhwal Himalaya in India succeeded in chasing away timber felling contractors -- by hugging the trees. This event became a milestone in the evolution of the now-famous Chipko movement, which spread to many threatened areas of the Himalayas. It was also a milestone in the evolution of People Power. But now Chipko's gains are once again under threat from commercial logging interests.

Chipko Movement, India -- a summary of the movement and its significance.
http://iisd.net/50comm/commdb/desc/d07.htm

"Chipko Movement: Of Floated Myths and Flouted Realities" by Jayanta Bandyopadhyay takes a fresh look at the famous Chipko Movement, its origins and development, and its true setting.
http://www2.mtnforum.org/mtnforum/archives/reportspubs/library/bandj99a.htm

"Hug the Trees!" -- long article by Mark Shepard on Chandi Prasad Bhatt and the Chipko Movement. Many people have the wrong idea about the Chipko movement.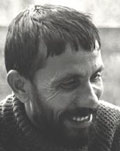 Chandi Prasad Bhatt

"The main goal of our movement is not saving trees, but the judicious use of trees," says Chandi Prasad Bhatt, one of the founders of the movement. Long after the end of colonialism, the mountain people were still being exploited and their forests ruined by tree felling companies from the plains supported by the Forest Department of the Indian government. Increasingly threatened by poverty and floods, the mountain villagers took action to protect their livelihood, demanding that the resources of the mountain forests should benefit the mountain communities, providing work and the means of survival. Their struggle won them an active role in the management of their forests. "We respect the needs of people in the plains for the products of our forests," Chandi Prasad says -- but Chipko believes that their needs too are better met if the forests are managed by those who live in them. An excellent article.
http://www.markshep.com/nonviolence/GT_Chipko.html

Eroding the Gains from Forest Protection -- NEW DELHI, Jan 25 (InterPress Service): Himalayan forests which have been protected from loggers by village communities and government restrictions have now been opened to commercial logging in one northern Indian state.
http://www.link.no/IPS/art/eng/serv/AP/2000/01/25/15.41_062.html
(Subscribers only)

Opportunities to save and sustainably use the world's forests
The world's forests continue to deteriorate despite international efforts to save them. Deforestation rates in tropical countries are increasing, sustainable forest management is rare, mature forests are being replaced by even-aged, highly simplified stands. International accords are of limited use. But there are promising avenues for international action, some of the most important of which are being stimulated, nurtured, and implemented by non-governmental institutions, including private business interests. Includes six case studies of local initiatives. Thorough treatment by author Nigel Sizer -- long, but worth it.
http://www.iisd.ca/linkages/forestry/sizer.html

Respectful Forestry
Forest ecosystems could serve us generously if we would work with them, says Robert Brothers of the Context Institute in this thoughtful paper. "The possibility that we could have both timber products and a beautiful forest is rarely considered, perhaps because it is rarely exemplified. Yet the simple truth is that lumber for houses can be taken from the forest on a sustainable basis only if the beauty, health, and integrity of the total forest ecosystem (herbs, birds, bugs, and bears) is also sustained. Sustainable forestry works. It is being practised successfully -- in both economic and ecological terms -- by people sprinkled across the continent and around the world."
http://www.context.org/ICLIB/IC08/Brothers.htm

World Rainforest Movement
The World Rainforest Movement is a global network of citizens' groups of North and South involved in efforts to defend the world's rainforests against the forces that destroy them. It works to secure the lands and livelihoods of forest peoples and supports their efforts to defend the forests from commercial logging, dams, mining, plantations, shrimp farms, colonization and settlement and other projects that threaten them. Information, bulletin, worldwide action alerts, links.
http://www.wrm.org.uy/

The World Rainforest Movement's "Penang Declaration" identifies the main causes of tropical deforestation and the deficiencies of the main official responses to the deforestation crisis, and proposes an alternative model of "development" in the rainforests based on securing the lands and livelihoods of forest peoples.
http://www.wrm.org.uy/english/declarations/penang.htm

Rainforest Foundation
The Rainforest Foundation is an international network with projects in 18 rainforest countries throughout Asia, Africa, Central and South America. It was founded following demands by Raoni, a Menkragnoti Kayapó chief who sought help to protect his people's homelands in the Amazon Rainforest. In 1993, the Rainforest Foundation fulfilled its promise to Chief Raoni: the legal demarcation of the territory was the first privately funded demarcation to be officially recognized in the history of the Brazil.
http://www.savetherest.org/home.html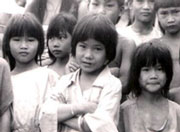 Penan children in Sarawak

Rainforest Information Centre is a volunteer, non-profit organization dedicated to protecting rainforests. Rainforest news, information and action alerts, the World Rainforest Report, forest projects, ethical building materials, deep ecology, educational projects and children's links, discussion group, the Good Wood Guide and more:
http://www.rainforestinfo.org.au/

Vast rainforest, forest and biodiversity conservation news and information resources at Gaia's Forest Conservation Archives. Site search, Archives search, and search the best sites on the Internet through Gaia's Forest Conservation Portal:
http://forests.org/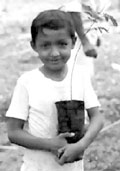 The New Forests Project is a people-to-people, direct-action program established in 1982 to initiate reforestation and reduce deforestation in developing countries. It has worked with more than 4,400 communities in over 120 countries, providing farmers, community organizations and environmental groups with what they need to begin successful reforestation projects. "We are helping to plant over 2,000,000 high-quality multi-purpose trees annually." Publishes New Forests News (occasionally!), back issues online. Website also features Tree Species of the Month and Tree-Education.
http://www.newforestsproject.com/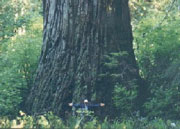 The Del Norte Titan -- note the person at the base of the tree

The Tall Trees Club recently discovered the Del Norte Titan -- not quite the tallest tree in the world, but the largest, with a staggering volume estimated at 36,622 cubic feet of wood, or 440,000 board feet! These wonderful trees are the coast redwoods (Sequoia sempervirens) of California. The Titan is in the Jedediah Smith Redwoods State Park and it's 307' tall -- 93.5 metres. Tallest tree in the world is the Mendocino Tree in the Montgomery Woods, height 367.5 feet.
http://www.botanical.com/botanical/article/talltree.html

Read it and weep
The most ancient living things on earth are the Bristlecone Pines of California's forbidding White-Inyo mountains. The trees growing in the most extreme conditions, with scant soil and moisture, are

the oldest, and oldest of all is the tree named "Methuselah", 4,723 years old and the world's oldest known living tree. But there was one older. Late in 1964 Donald R. Currey, a student at the University of North Carolina, who was working toward his doctorate, was searching for evidence of Ice Age glaciers and came upon the bristlecones near the Wheeler Peak glacier. He began to take core samples from several trees, discovering one to be over 4,000 years old! He asked for and was granted permission by the US Forest Service to cut the tree down. After cutting the trunk, 4,844 rings were counted. This student had just killed the oldest living thing on earth! Eventually, dendrochronologists determined the tree to be 4,950 years old.
http://www.sonic.net/bristlecone/

Get to grips with trees
Treeclimbing.COM -- Everything in the World about Tree Climbing, by Tree Climbers International: Recreational tree climbing, tree care, tree gear, chat room, Free Online Newsletter, cat rescue... it's all here.
http://www.treeclimbing.com/


WaterAid is the UK's specialist development charity working through partner organizations to help poor people in developing countries achieve sustainable improvements in their quality of life by improved domestic water supply, sanitation and associated hygiene practises. WaterAid works in 13 countries in Africa and Asia to improve the quality of life through lasting improvements to water, sanitation and hygiene using local skills and practical technologies. It estimates that projects completed have helped more than five and a half million people to gain access to improved water supplies and/or sanitation. Resources and information, focus on women and children.
http://www.wateraid.org.uk/

Trees, soil and water
In the news
Not in the news
References and resources
Trees for deserts: HDRA
Trees and forests -- resources for schools