---
Stories by Midori Hiraga
---
How I became a Third World journalist
---
English
On the 50th anniversary of Hiroshima
---
Japanese use holiday to purge guilt over the past
---
Chinese migrant's battle to obtain degree
---
Filipino arts group shares message of hope and justice
---
Japanese
Hong Kong's handover 1997
---
"We are not products" -- Foreign domestic helpers in Hong Kong
---
Life as the only Japanese reporter on an English newspaper in Hong Kong
---
Curriculum Vitae
---
June is a rainy season in Japan -- all the leaves of early summer darken color to a beautiful green -- and my father gave the name "Midori", the Japanese word for green, to his second daughter, born in June 1971.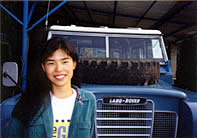 As a child in a small town near Hiroshima, I was very much aware of the war and of what it did to the people, both inside and outside Japan. In college I studied some of the modern history of Southeast Asian countries and China, and learnt what Japanese had done to the people of the region. What I hated most was the propaganda teaching people to hate the enemies and look down on other Asian people, and how Japanese people followed it, partly because of lack of information about other people and actual contact on an individual human basis. As a child, I thought it would have been more difficult for the government to mislead people if they had known more about other Asian people and had made friends with them.

So I began to aim at being a journalist so I could help to bridge the gap between Japan and the rest of the world.

Also, I grew up seeing pictures of starving children in Cambodia and Africa, and I wanted to do something about it. When I was a teenager a book called "Ningen-no-Daichi (The Earth of Men)" written by Michiko Inukai opened my eyes to the world's refugee, hunger, and environment problems, leading me to Third World issues.

Yet when I finished college I was not sure what to do with my life (thanks to the test-oriented Japanese education system!). Neither working for a Japanese newspaper nor for the United Nations seemed the way to fulfill my aim, and I wanted to have more experience in life first. I was lucky enough to be offered a scholarship by the Rotary Club, so I came to Hong Kong to study as an overseas student. I studied Mandarin, then Cantonese, at the Chinese University of Hong Kong. I stayed with local Chinese students, mixed with them and travelled together to Thailand. I also travelled in mainland China alone for three weeks, visiting friends' friends, taking local trains and buses, and talking with local people.

After finishing my university course, I joined an English-language newspaper, the Hong Kong Standard, as a reporter. This was just before the Handover to China and the whole Hong Kong society was changing rapidly, often leaving its people confused. In the course of my work I met hundreds of local Chinese, young and old, and people from all over the world, especially from South East Asia. I became involved in the local Filipino society and saw the life of struggle led many of Hong Kong's domestic helpers, migrant workers, and illegal over-stayers.

Hong Kong gave me a condensed picture of the world, where rich is rich but poor is poor. In Hong Kong, the gap is extreme and you can see it by just walking a few blocks. I wrote articles about it, and kept on writing even after I left the newspaper, as a freelance writer for Japanese magazines. At the end of 1997 I co-authered a book on the handover. But I was not satisfied with my career as a reporter or a writer.

Then I met Keith Addison, who told me he was a Third World journalist. I hadn't heard that description before, and it opened the whole world to me just as I was questioning the way of my life: this is what I wanted to do.

I began studying the world's food, environment and development issues under the guidance of this strict but patient teacher. Later, when he first told me of this adventure, I immediately applied to join, but was rejected -- because of lack of experience and knowledge, and being too young and vulnerable. It took months to convince him of my capability and contribution, but finally I was admitted as a partner in the Journey to Forever project.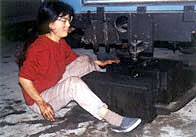 Fixing the tank of my Land Rover
-- what a struggle!

That was the beginning of all the hard work and struggle to develop this huge project. Still, I was happy building the project's experimental organic garden from scratch, restoring the Land Rovers, and learning about the world's real issues.

This journey is the biggest challenge in my life, and the best training to be a Third World journalist. I hope it will also be an exciting adventure for many Japanese people through my writings.

My mother always told me I was just an ordinary girl, and this adventure was heart-breaking news for my parents, who still wish me to follow the ordinary life of a Japanese woman. I am sorry for making them worry about my safety, but this is the adventure I have sought all my life.

It was my father who named me "green", and my mother who gave me the book by Ms Inukai, and I'm deeply grateful to them for leaving me to do what I want.