Search the Journey to Forever website – click HERE



Navigation
Kings off the road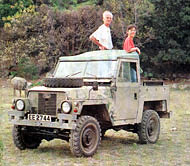 Journey to Forever's 1973 Land Rover Series III lightweight


There was a golden age of 4x4 go-anywhere vehicles that lasted maybe 20 years, from the early 1960s to the early 1980s. After that came such innovations as style, comfort, air-conditioning, computerized controls, electric windows -- and status, sex-appeal, and all the other ploys used to sell modern cars. In other words, marketing.

It all just gets in the way of the job they're supposed to do. But what job are they supposed to do? In fact (with honorable exceptions), most 4x4s or SUVs (Sports Utility Vehicles) sold today never go off the tar, never get muddy, never get their beautiful paint-jobs scratched.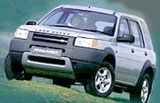 1999 Land Rover Freelander

The marketing men had noticed that a large proportion of the 4x4 market didn't know what all those other gear levers were for, and didn't care either. And they probably also noticed that it's just not good marketing practice to build cars that last forever. So function took second place to image.

We're only interested in function. Anything much less than 20 years old probably just isn't tough enough, versatile enough, dependable enough or fixable enough for Journey to Forever.

Again there are exceptions, like the Steyr-Daimler-Puch Pinzgauer and the Mercedes-Benz G-Wagens and Unimogs. In fact these are all golden-era vehicles, not really exceptions at all -- the Pinzgauer and the G-Wagen both date from the 1970s (they've been steadily developed since then rather than changed), while the Unimog goes back more than 50 years (and has also been developed rather than changed).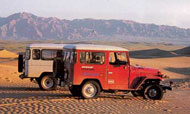 Toyota FJ40 Land Cruisers (from dirttrack's cruiser page)

Other new models do perform well off-road, and on the road too, but they have things like newfangled computerized electronic engine-management systems that you just can't adjust with a screwdriver when you're a thousand miles from anywhere.

You don't need a million-dollar workshop full of electronic equipment to diagnose, adjust or repair a Series III Land Rover, a Nissan Patrol G60 or a Toyota FJ40 Land Cruiser. You can fix them yourself. Mercedes has kept the 461 version of its G-Wagen simple for just that reason.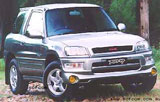 1999 Toyota RAV4 Max

Another important factor is that the old, tried-and-trusted 4x4s were manufactured with much lower eco-costs than most vehicles being made today, even without taking their much longer useful life into account.

We think there are only six vehicles which fit our specifications, and only three of them are still being made. There are other fine vehicles, but they are too rare or lack the support to be practical for a project such as this.
Steyr-Daimler-Puch Pinzgauer
Mercedes-Benz G-Wagen
Mercedes-Benz Unimog
Land Rover Series III (out of production)
Toyota FJ40 Land Cruiser (out of production)
Nissan Patrol G60 (out of production)
See also The best car in the world
Steyr-Daimler-Puch Pinzgauer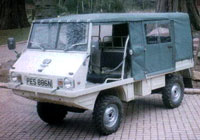 Haflinger (Haflinger Club)

In some ways the little Haflinger is the most capable of all 4x4s. The Austrian makers, Steyr-Daimler-Puch, went in the opposite direction to all other 4x4 manufacturers -- they made it as small and light as possible, and built in some of the best 4x4 engineering to be found.

Basically it was built to take four Austrian soldiers up a mountain -- any mountain. Haflingers will go almost anywhere.

They're tiny -- four men can pick one up, which helps if you actually do manage to get it stuck.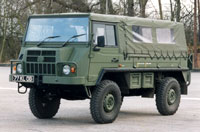 Pinzgauer 716M 4x4

It has a 54" wheelbase, a 646cc two-cylinder air-cooled gasoline engine, portal axles for high ground clearance, very good approach and departure angles, a solid gearbox and front and rear differential locks, which means that even if only one wheel is in firm contact with the ground you'll still keep going.

Haflingers were built from 1958 to 1974, and succeeded by the muscular Pinzgauer, very similar but much bigger.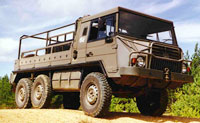 Pinzgauer 718M 6x6


Pinzgauers are 4x4s or 6x6s, with a payload of 1.5 tons or more, very tough and very well-engineered, and they can handle virtually any terrain. They have a unique flexible tubular frame which is part of the secret of their agility.

To the chagrin of Land Rover fans, the British Army's Land Rovers have been replaced by the far more capable Pinzgauers.


The earlier models had 2.5-litre 4-cylinder air-cooled engines, later ones 2.4-litre 6-cylinder water-cooled Volkswagen turbo-diesels. From 2002 the Pinzgauers will be fitted with new and more efficient Euro III engines, a high-torque industrial variant of Volkswagen's popular 2.5 litre, 5-cylinder turbo inter-cooled diesel engine. In trials the new-engined vehicle has proven as quick off the mark with a full payload as the current model is unladen.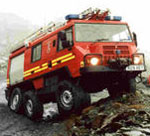 Unlike most of our Appropriate Technology vehicle choices, the Pinzgauer is still in full-scale production. In June 2000 production and future design of the Pinzgauer moved from the Steyr-Daimler-Puch plant in Graz, Austria under licence to the United Kingdom under the control of the privately-owned company Automotive Technik, which supplies Pinzgauers to the British and other armed forces and worldwide.

Pinzgauers are a bit smaller and lighter than Unimogs, but just as powerful, faster on the road and at least as capable off it.

Haflinger Club
http://www.ccc.nottingham.ac.uk/~ppzcad/haf.html

Haflingers go anywhere -- Peter Fronius' Haflinger site
http://members.eunet.at/peter.fronius/bilder_e.htm

Pinzgauer All Wheel Drives
http://www.4wdonline.com/Steyr/Pinzgauer.html

Automotive Technik, UK
http://www.pinzgauer.uk.com/
Mercedes-Benz G-wagen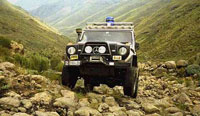 The Mercedes-Benz Gelaendewagen (cross-country car), or G-wagen, went into production in 1979, following five years of development by Mercedes and Steyr-Daimler-Puch (see below). It's a blocky, functional beast a lot like a Series Land Rover -- with the difference that it's undergone continuous development and is still very much in production, with Mercedes guaranteeing production for NATO up to 2025.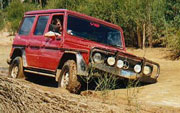 The G-wagen has gone through a series of model-changes and engine configurations, but the basics haven't changed -- this is still a very capable, very functional off-road vehicle. G-wagens seldom get stuck, and, unlike the old Series Land Rovers, they're fast, and they're comfortable.

They're used by 63 armies around the world, most recently the US Marine Corps. They're also much favoured by off-roaders and expeditioners, with a reputation for sure-footedness and reliability.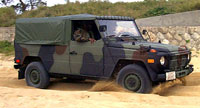 US Marine Corps G-Wagen


They come in short- and long-wheelbase versions. Engines are either gasoline and diesels, ranging from 4-cylinders to V6s and big V8s rated at up to 300 hp. Later models have front, rear and centre differential locks, manual or automatic 5-speed gearboxes with high and low transfer and permanent 4-wheel drive. Two basic versions -- the 461, a workhorse, and the 463, with more options, more luxury.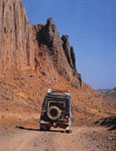 Everything about the Mercedes G
http://www.g4rce.net/

The G-wagen
http://www.vinthers.dk/AboutGwagen.htm

Mercedes Benz G-wagen
http://www.4wdonline.com/Mercedes/
Gwagen/1990s.html

Mercedes-Benz G-Class
http://www.mercedes-benz.com/e/cars/g-class/default.htm
Mercedes-Benz Unimog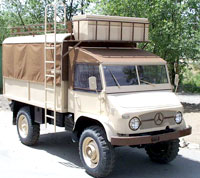 Unimog S equipped for an expedition
(GT International)


This is what one authority says about Unimogs: "The Unimog has achieved an enviable reputation for reliable operation and agility in the most inhospitable terrain. The Unimog offers mechanical reliability unknown to its competitors. There is little requirement to carry extensive spares even on long-distance travels. It is virtually unknown for a Unimog to suffer serious mechanical damage and consequently only routine maintenance items need be carried as well as perhaps an additional spare wheel." (Westfield 4x4)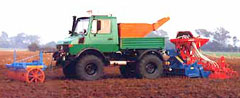 Unimogs can run any kind of machinery a tractor can run, three machines at a time with independent controls, driven off the front and rear PTOs (Power Take-Offs) and the hydraulic system, with winches front and rear and on the side too if you want, including hydraulic winches that can be used as cranes.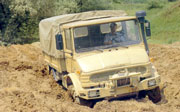 Unimogs just keep going (Westfield 4x4)

There are many Unimog models, from light (relatively) through medium-weight to heavy trucks. A favourite for expeditions is the U-404 Unimog S, first introduced in 1956 and phased out in 1980.

These old Unimogs also last forever -- most are still running, as good as new. Parts are still available, and Mercedes-Benz has dealers in most countries. Many parts are interchangeable with other Mercedes models.

Steve Spence's Unimog pages:
http://www.webconx.dns2go.com/unimog.htm

Westfield 4x4 -- Unimog S:
http://www.west-4x4.demon.co.uk/page3.htm

Unimog Network International:
http://www.unimog.net/

Mercedes-Benz:
http://www.mercedes-benz.com/e/ecars/unimog/default.htm

UNIMOG -- A German Legend:
http://www.unimog.net/articles/schramm/
Land Rover Series III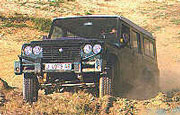 New model PS-10 from Spain


See The workhorses for details of the Journey to Forever Land Rovers. Land Rover stopped making the Series models in 1985, but they're still being made by Santana in Spain, and in Iran. Santana continued developing the Series models, producing a Series IV, with such refinements as disc brakes, an overdrive, parabolic springs and a 3.4-litre six-cylinder engine.

The company recently released a new model, the PS-10, based on the long-wheelbase 109" Series III. More photographs and details:
http://www.ticonsole.nl/santana/ps-10.htm

But it was reported early in 2001 that Santana was having financial problems and production of the PS-10 could soon end.

The Land Rover Page:
http://regiments.org/rover/

RoverWeb:
http://www.off-road.com/RoverWeb/

Toyota FJ40 Land Cruiser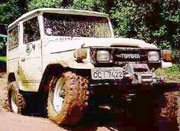 Toyota FJ40 in Brazil

Toyota is said to have copied the Land Rover when it made the first Land Cruisers, and maybe they did, but the two vehicles are very different.

Like Series Land Rovers, the FJ40 has had 40 years to prove its mettle in tough conditions all over the world. Also like Land Rovers, their owners love them. They also come in two sizes: the FJ40 short wheelbase, and the FJ45 long wheelbase.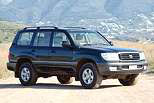 The new Land Cruiser 100


And like Land Rover, Toyota stopped making the FJ40 in the early 1980s -- later Land Cruisers are tough and capable, but very different. However, the FJ40 is still being made by Toyota in Brazil -- virtually the same vehicle. It's called the Toyota Bandeirante, and still comes in two sizes. See:
http://4wd.sofcom.com/2000/000110-Bandeirante.html

But production of the Bandeirante was due to end late in 2001, with about 100,000 Bandeirantes having been built.

Toyota Land Cruiser 40/45 Series:
http://4wd.sofcom.com/Toyota/40.html

See also Death of a Toyota (Keith Addison), and Death of a T*y*ta

Nissan Patrol G60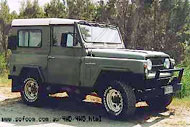 Patrol G60 -- Picture by www.4wdonline.com

The Nissan Patrol was born in 1960. Still in production today, this is one of the longest running production models in the world. The G60 series was produced in short, medium and long wheel-base versions. Like the Toyota FJ40 Land Cruiser, it was prompted by the high sales of the civilian version of the US Army General Purpose Vehicle (GP -- Jeep) and the British Land Rover.

The Patrol had a reputation for simplicity and general toughness, ideal qualities in such vehicles. It had a 3-speed manual transmission and 2-speed transfer case with part-time four wheel drive. The motor was a rugged 6-cylinder 4-litre in-line unit which seldom needed repair -- it was said to be "bulletproof".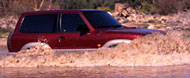 The new Patrol GR doesn't mind a bit of water

The G60 went out of production in 1979, replaced by newer models. But the old ones don't die easily, many of them are still around, and much cherished by their proud owners. The new ones are also tough beasts, capable off-roaders, mostly with powerful diesel motors.

A version of the G60 is still made in India for India's military.

Nissan Patrol G60
http://www.4wdonline.com/Nissan/60.html

Nissan Patrol 60
http://www.4wdonline.com/Nissan/60/1960s.html

Nissan US
http://www.nissandriven.com/

Nissan Europe
http://www.nissan-4x4.com/


Project vehicles -- the workhorses
Kings off the road